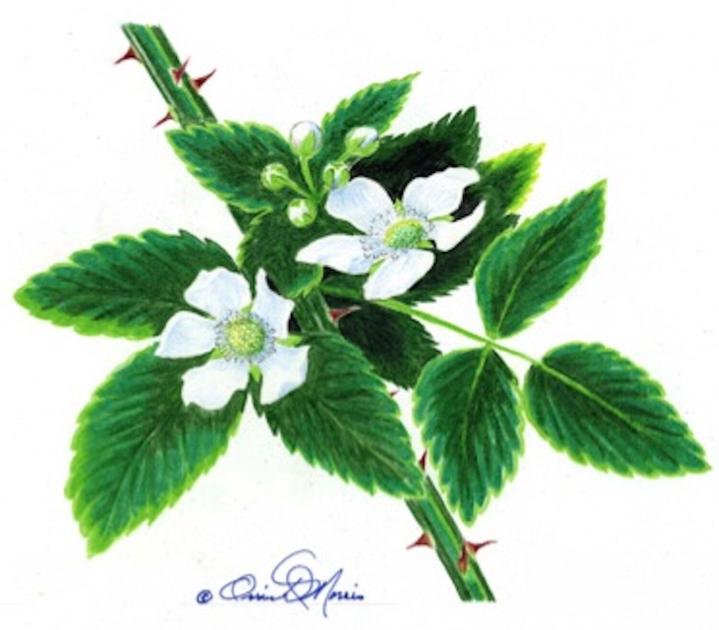 Luke 6:44 is appropriate for the wildflower we study here. It reads, "For each tree is known by its own fruit. For men do not gather figs from thorns, nor do they pick grapes from a briar bush." This verse was included in Jesus' discourse about false prophets whose messages led the people away from God, rather than to Him. A little later in that discourse Jesus said, "by their fruits you shall know them"(v. 20).
The wildflower we examine today, wild blackberry, blooms in the briar patch, the place where Joel Chandler Harris had B'rer Rabbit to hide. When the morning temperature in March or April dips to the low 50s or high 40s "old timers" call it blackberry winter. Whenever these sudden chills occur the folklore says they start the "production clock" for the wild blackberries. True? I don't know, but who am to question the "old timers?"
The plants are from 3 to 6 feet tall and are very thorny. I repeat, very thorny. The blossoms are white and quite pretty if viewed at close range. They measure about 1 inch, but vary according to the moisture present.
Blackberries are everywhere and form "bramble patches" especially where there is occasional collection of rainwater or a spring.
If you are a new-comer to the South and are hesitant about eating wild things, blackberries are go-o-o-od! The only thing you have to do to pick them is wear boots, gloves and an insect repellant. The boots are in case you encounter a snake. Gloves are for thorns, and the insect repellant is to protect you from chiggers.
You may ask, are wild blackberries worth all this effort? Well, yes and no. Yes, if you have learned to make jams and jellies. But no, if you want to eat them as you pick them. Like most berries, they sweeten after being picked if you let them sit for about 12 hours.
For those of us with a "sweet tooth" they taste best when sprinkled with a little sugar at the start of the 12-hour period. When you pick and eat them on location you often get a bitter taste because all of the berries that appear black are not fully ripened.
In May there are usually many blooms and if the April showers continue the berries will be plump and tasty. The berries begin maturing in mid-June, changing from light green to bright red. When they are ready to pick they will be indigo blue or black.
Once they start ripening, the center berry of the cluster will turn black first. That "first fruit" of the cluster is my favorite because it is the most plump; however, to pick enough to make a cupful requires a lot of plodding through the brambles that results in many thorn pricks and unsightly scratches. A week later or so the harvesting will be much easier.