June 11, 2021
/ 07:54 AM IST

Buzzing Stocks: Oil India, Yes Bank, Godrej Properties and other stocks in news today
June 11, 2021
/ 07:36 AM IST

Follow our LIVE blog for the latest updates on the novel coronavirus pandemic and its impact
June 11, 2021
/ 10:20 AM IST
KIMS Hopitals IPO issue to open on June 16 for subscription
General Atlantic-backed Krishna Institute of Medical Sciences (KIMS Hospitals) will open its initial public offering (IPO) for subscription on June 16 with a price band of Rs 815-825 per share. The issue will close on June 18. The public issue comprises a fresh issue of up to Rs 200 crore and an offer for sale of up to 2,35,60,538 equity shares.
June 11, 2021
/ 10:16 AM IST
Gold Price Today: Yellow Metal Trades Higher, Spot Gold Reclaims $1,900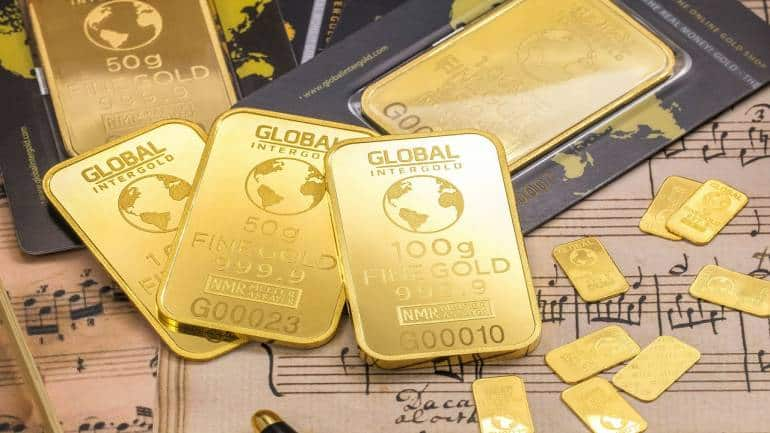 Buy gold around Rs 49,050 with a stop loss of 48,800 for a target of 49,600 and silver around Rs 71,500 with a stop loss of 70,900 for a target of 73,100, say experts.
June 11, 2021
/ 10:08 AM IST
Rupee Opens:
Indian rupee opened higher at 72.94 per dollar on Friday against previous close of 73.06, as the Indian benchmark indices touched the record high level in the early trade.
On June 10, rupee ended lower by 9 paise at 73.06 per dollar against Wednesday's close of 72.97.
June 11, 2021
/ 10:05 AM IST
Gold Updates:
Gold prices edged above $1,900 per ounce level on Friday, supported by a pullback in the dollar and lower bond yields, after data showing a rise in US inflation was viewed inadequate to alter the Federal Reserve's easy monetary policy.
June 11, 2021
/ 10:02 AM IST
Market at 10 AM
Benchmark indices are trading near the record high levels amid buying seen across the sectors.
At 10:00 hrs IST, the Sensex is up 265.02 points or 0.51% at 52565.49, and the Nifty up 77.60 points or 0.49% at 15815.40. About 1869 shares have advanced, 729 shares declined, and 102 shares are unchanged.
Coal India, Power Grid Corp, Reliance Industries, JSW Steel and ONGC are among the major gainers on the Nifty, while losers are Bajaj Finserv, Wipro, HDFC Life, Adani Ports and SBI.
All the sectoral indices are trading in the green.
June 11, 2021
/ 09:49 AM IST
BSE Oil & Gas index rose 1 percent; all stocks in the green:

June 11, 2021
/ 09:38 AM IST
FY22 GDP growth projected at 8.5%: ICRA
Ratings agency ICRA on June 10 said that it expects India's GDP to grow at 8.5 percent in FY22. ICRA had earlier estimated the GDP to grow at 10-11 percent rate; however, it had later revised it down to 10-10.5 percent.
June 11, 2021
/ 09:35 AM IST
Asian Markets Update:
U.S. bond yields fell to three month lows and a broad gauge of Asian shares rose on Friday as investors saw enough one-off factors in U.S. consumer price data to back the Federal Reserve's conviction that rising inflation will be transitory.
June 11, 2021
/ 09:29 AM IST
Nifty Metal index added 1 percent led by the Coal India, APL Apollo, SAIL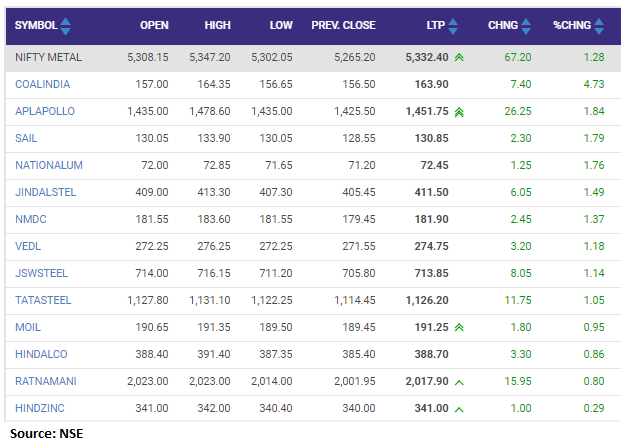 June 11, 2021
/ 09:23 AM IST
Siddhartha Khemka, Head – Retail Research, Motilal Oswal Financial Services:
The further direction of the domestic markets would depend on the monsoon, opening up of the economy in a phased manner and the pace of vaccination going forward. As states ease restrictions gradually in Jun'21, we expect the demand environment to get better which can have a positive impact on the markets. Technically too, Nifty remain in a positive set up and can see a move towards highs of 16000 zones.
Also with many states starting to ease restrictions gradually, we expect the demand environment to improve and the unlock trade to play out well in Jun'21. On the global front US CPI data could decide the market direction as any sign of stimulus tapering by Fed could affect the liquidity in the market.