May 18, 2021
/ 07:52 AM IST

Check out the latest news on coronavirus and the vaccine administration across India
May 18, 2021
/ 03:07 PM IST
Surge in vaccination to fortify the revenues of glassmakers: CRISIL Ratings

The sharp increase in COVID-19 vaccination led pharma demand and expected healthy growth in end-user sectors like automobiles and construction is expected to drive revenues up by 12% on-year for domestic glassmakers in fiscal 2022.

The recovery, already visible since the second half of fiscal 2021, is expected to continue in this fiscal, albeit some headwinds of the second wave of COVID-19 in the first quarter of the current fiscal, an analysis of 25 CRISIL-rated glass-makers shows.
May 18, 2021
/ 03:01 PM IST
Jyothy Labs Q4: Consolidated net profit grew 2.7 percent to Rs 27.3 Cr Vs Rs 26.6 Cr (YoY). Consolidated revenue grew 26 percent to Rs 495.1 Cr Vs Rs 393 Cr (YoY). Cons EBITDA grew 74.8 percent to Rs 70.9 Cr Vs Rs 40.6 Cr (YoY) and EBITDA margin came at 14.3 percent Vs 10.3 percent (YoY).
May 18, 2021
/ 02:54 PM IST
Abbott India Q4: Net profit grew 37.4 percent YoY to Rs 152.5 crore in Q4FY21 versus Rs 111 crore in Q4FY20.
Revenue grew 14 percent to Rs 1,095.5 crore against Rs 961.2 crore YoY.
EBITDA jumped 48.5 percent to Rs 205.5 crore versus Rs 138.4 crore YoY. EBITDA margin came at 18.7 percent versus 14.4 percent YoY.
The board of directors recommended payment of a final dividend of Rs 120 and a special dividend of Rs 155 per equity share of Rs 10 each for the year ended March 31, 2021.
May 18, 2021
/ 02:38 PM IST
Crypto exchanges say Sebi or a new entity, not RBI, should regulate the sector: Report
Cryptocurrency exchanges have communicated to the government that market regulator Securities and Exchange Board of India (Sebi) is more suited to regulate the space than the Reserve Bank of India (RBI).
Exchanges reasoned that cryptocurrency assets, such as Bitcoin and Ethereum, are closer to commodities than currencies, The Economic Times reported. The exchanges also proposed a new a entity to regulate cryptocurrencies. Read more
May 18, 2021
/ 02:23 PM IST
Tapan Patel- Senior Analyst (Commodities), HDFC Securities: Crude oil prices traded higher with benchmark NYMEX WTI crude oil prices were trading 0.74% up at $66.77 per barrel for the day. MCX Crude oil May futures traded marginal up to Rs. 4871 by noon.
Crude oil prices are expected to trade sideways to up for the day with resistance at $68 and support at $65 per barrel. MCX Crude oil May has support at Rs. 4790 and resistance at Rs 4960.
May 18, 2021
/ 02:18 PM IST
Canara Bank Q4: Net profit at Rs 1,011 crore against loss of Rs 3,259.3 crore (YoY). Gross NPA at 8.93 percent against 8.95 percent (QoQ). Net NPA at 3.82 percent against 3.93 percent (QoQ). Provisions at Rs 4,134 crore against Rs 4,325 crore (QoQ) and against Rs 5,375 crore (YoY). NII grew 68.4 percent at Rs 5,589.2 crore against Rs 3,318.5 crore (YoY). Other income at Rs 5,207 crore against Rs 2,175 crore (YoY).
May 18, 2021
/ 02:06 PM IST
Nifty Auto added 2 percent led by Ashok Leyland, Mahindra & Mahindra and Bajaj Auto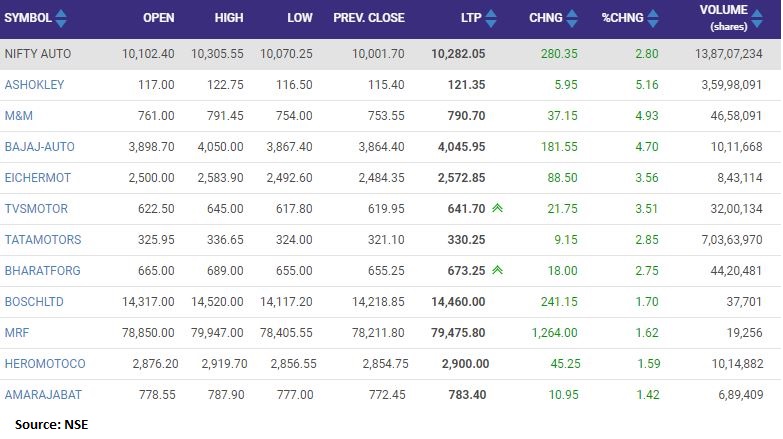 May 18, 2021
/ 01:56 PM IST
Emkay Global Financial Services on Colgate Palmolive: We remain positive on Colgate and expect management actions on innovations/GTM to improve growth and market share. Valuation at 35x FY23E EPS is reasonable and offers rerating potential. We maintain buy with target of Rs 1,820 (40x Jun-23E EPS) against Rs 1,800 earlier.
May 18, 2021
/ 01:36 PM IST
Do You Own These 14 Stocks That Were Upgraded To 'buy' Rating, Post Earnings, For Up To 31% Return?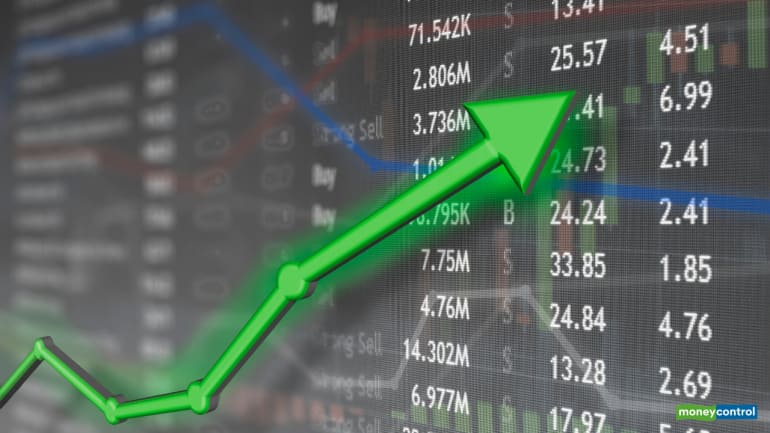 After a phase of strong earnings, lockdown-like restrictions have led to more downgrades than upgrades but analysts and brokerages remain bullish about many stocks, which have been upgraded to a 'buy'…
May 18, 2021
/ 01:21 PM IST
Jatin Damania, Vice President – Research Fundamental, Kotak Securities: We expect steel prices to remain strong in the near term, driven by China's recent changes in steel export policy. This in addition to supply restrictions to reduce emissions have reset steel margins to a higher level. We estimate further sequential improvement in spreads in 1QFY22 based on spot spreads. Strong operating performance has helped the domestic companies to sharp deleverage and puts debt concern behind and creates room for growth capex. We believe Tata's internal accruals can now fully fund growth capex requirements and is trading at attractive valuation. We believe Tata Steel is the most attractive risk reward in the sector (ferrous space) and have a buy rating with a target price of Rs 1400.
May 18, 2021
/ 01:04 PM IST
Motilal Oswal on MRPL: The refinery is likely to consume ~1mmscmd of gas from the Kochi–Mangalore pipeline as the gas turbine modification is complete. Gas usage would also aid profitability in the current subdued refining margin environment. Our FY22/FY23 GRM forecast is conservative at USD4.5–5.5/bbl – this presents the likelihood of an upgrade, if benchmark GRMs were to improve sooner.
The stock trades at 6.7x FY23 EPS of INR7.2 and 5.4x FY23 EV/EBITDA. We value the stock at EV of 6x FY23E EBITDA to arrive at fair value of Rs 56 per share for the standalone refinery and deduct Rs 13 per share for OMPL. Our target price stands at Rs 43.