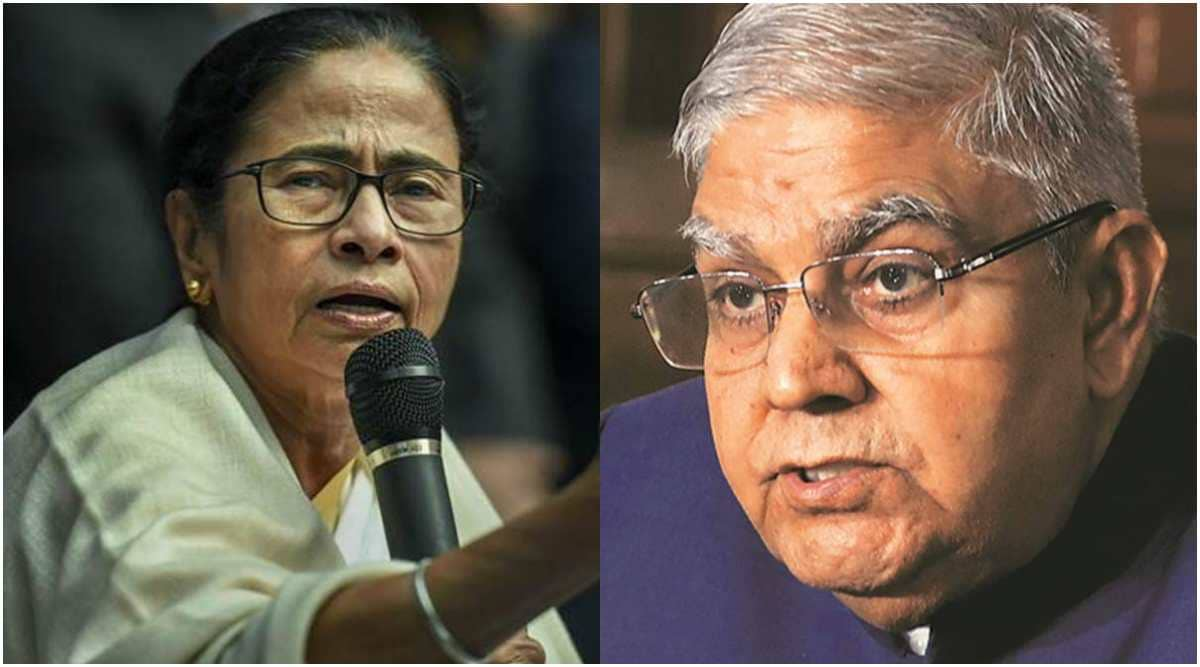 Reiterating her demand for the recall of Governor Jagdeep Dhankhar, West Bengal Chief Minister Mamata Banerjee on Monday said he was "corrupt" and "named in Hawala scam chargesheet" in the 1990s. Dhankhar denied the Chief Minister's allegation, accusing her of spreading "lies and misinformation".
"I have written three letters (to the Centre) for the removal of West Bengal Governor. He (Dhankhar) is a corrupt man, his name was in the chargesheet of Hawala Jain case in 1996," Banerjee said at a press conference.
"A journalist told me that the governor's name was in the chargesheet of the 1996 Hawala Jain case. But they went to court and got their names cleared. But a PIL or a writ petition is there and it is pending. What do you want to know more? He's a corrupt man. I'm sorry to say… Why the Central government has allowed a governor like this?"
"If the Centre does not know about the Hawala Jain case, then would say take out the chargesheet. Was his name there or not?" she said.
Never expected a leader of stature @MamataOfficial to engage in sensation premised on misrepresentation & untruth.

Still wondering what prompted her to engage in such act !

Am sure she will for sure reflect & generate scenario for working in togetherness for welfare of people.

— Governor West Bengal Jagdeep Dhankhar (@jdhankhar1) June 28, 2021
Hours later, Dhankhar held a press conference at Raj Bhavan where he claimed that there was "not an iota of truth" in the allegations levelled by the chief minister and challenged her to name the Hawala scam chargesheet in which he was named.
"The entire world knows, no one has been convicted in the Hawala case. You know who are the people chargesheeted. You know their names. This is far from facts. It is a plain and simple untruth. This is misinformation. I did not expect this from a seasoned politician. I have not taken any stay from any court in the Hawala chargesheet because there was none… The allegations levelled by Chief Minister Mamata Banerjee don't have an iota of truth. It is unfortunate that she is spreading misinformation and misinterpreting facts. It doesn't suit a chief minister to make such allegations,'"Dhankhar said.
"'She should name the chargesheet in which I was named. I was never named in any of the chargesheets in the Jain Hawala Case," said Dhankhar.
Jain Hawala Case was a political and financial scandal in the 1990s in which money routed through hawala channels was claimed to have been given to top politicians across various parties. Those who were named included L K Advani, V C Shukla, Sharad Yadav and others. The court did not find any incriminating evidence against the accused and they were thereby acquitted.
Banerjee had also lashed out at the Governor for "interfering in the state government's functioning". She said: "Why should he dictate even after our government got a huge mandate just a month ago? He is dictating us what to eat, what officers should do, everything."
She also accused the Governor of trying to divide the state. Banerjee said Dhankhar's visit to North Bengal was a political stunt as he only met MLAs and MPs of the BJP.