NEW DELHI: Prime Minister Narendra Modi on Monday announced that in the next two weeks the Centre will take over the existing Covid vaccination drive, which was partly being carried out by the states since May 1.
The PM also said that the Centre will provide free vaccines to all states for vaccination of those above the age of 18 years at government facilities from June 21.
Till the new guidelines take effect from June 21, both the Centre and states will work together on the vaccination drive.
The Centre's new policy comes days after Supreme Court slammed the ongoing vaccination drive for the 18-44 age group and called it "arbitrary and irrational."
The top court had asked the Centre why budgetary allocation of Rs 35,000 crore for vaccine procurement could not be used to inoculate this group free of cost.
Here are the highlights of the new vaccination policy announced by PM Modi in his address to the nation:
* All above 18 years of age in the country to get free vaccination at government facilities from June 21 (Several states were already giving free vaccines to all in the 18-44 age group)
* Centre to buy 75 per cent of jabs from vaccine makers and give it for free to state governments
* States will now have to spend no money on buying vaccines
* Private sector hospitals will continue to procure 25 per cent of vaccines directly from manufacturers
* Service charge of private hospitals to be capped at Rs 150 per dose over fixed price of the vaccine
* The task of monitoring vaccination drive at private hospitals will remain with the state governments
What has changed:
* Earlier, Centre was providing free vaccines to the 45+ age group and the frontline workers at government facilities across the country. Now, all above 18 years of age to get free vaccines at all government facilities.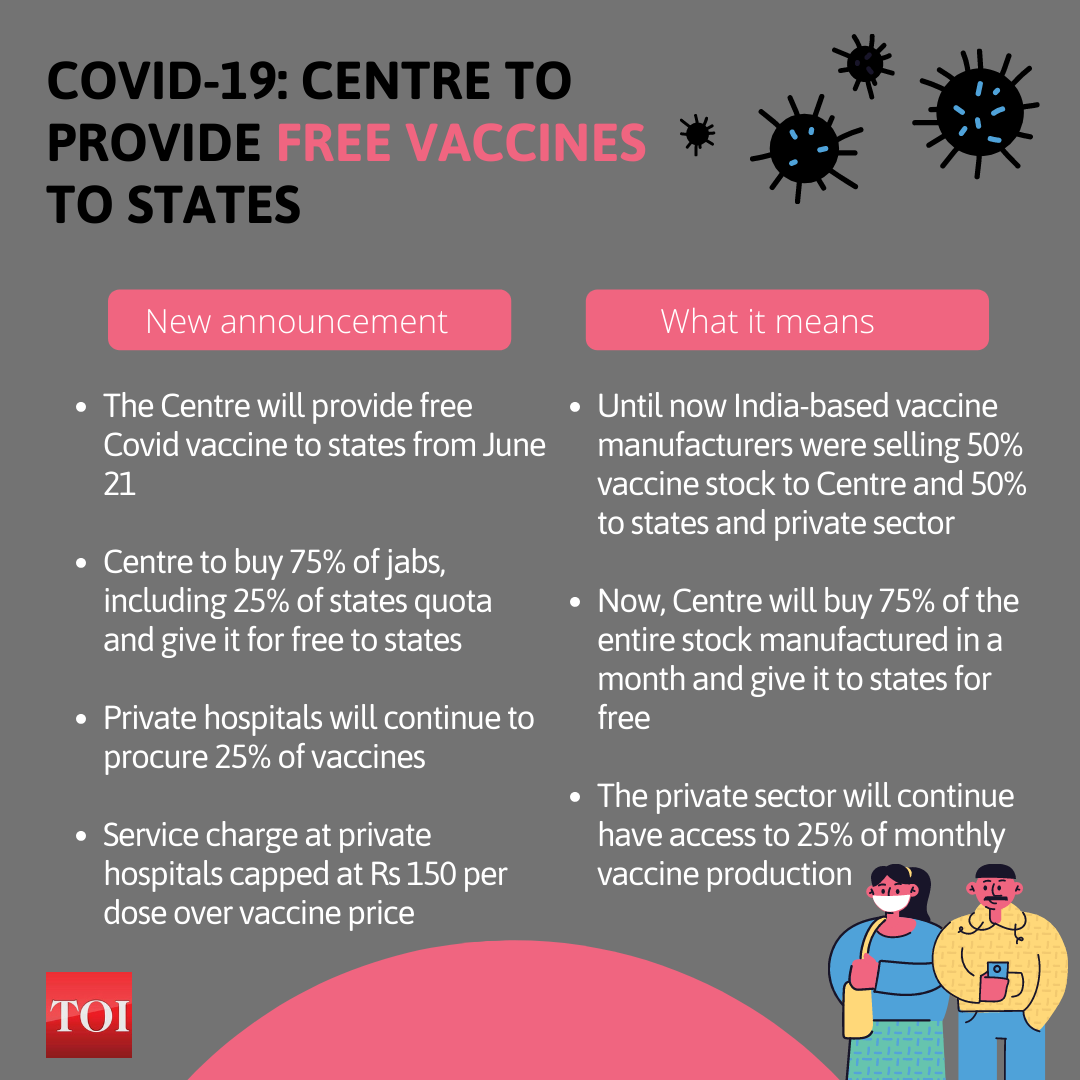 * Earlier, states were buying 25 per cent of jabs from manufacturers for vaccination of 18-44 age group at government facilities in the state. Now, the Centre will buy the state quota also from the manufacturers.
* Until now, India-based vaccine manufacturers were selling 50% vax stock to the Centre and 25% each to the states and private sector. Now, the Centre will buy 75% of the entire stock manufactured and give it to states for free.