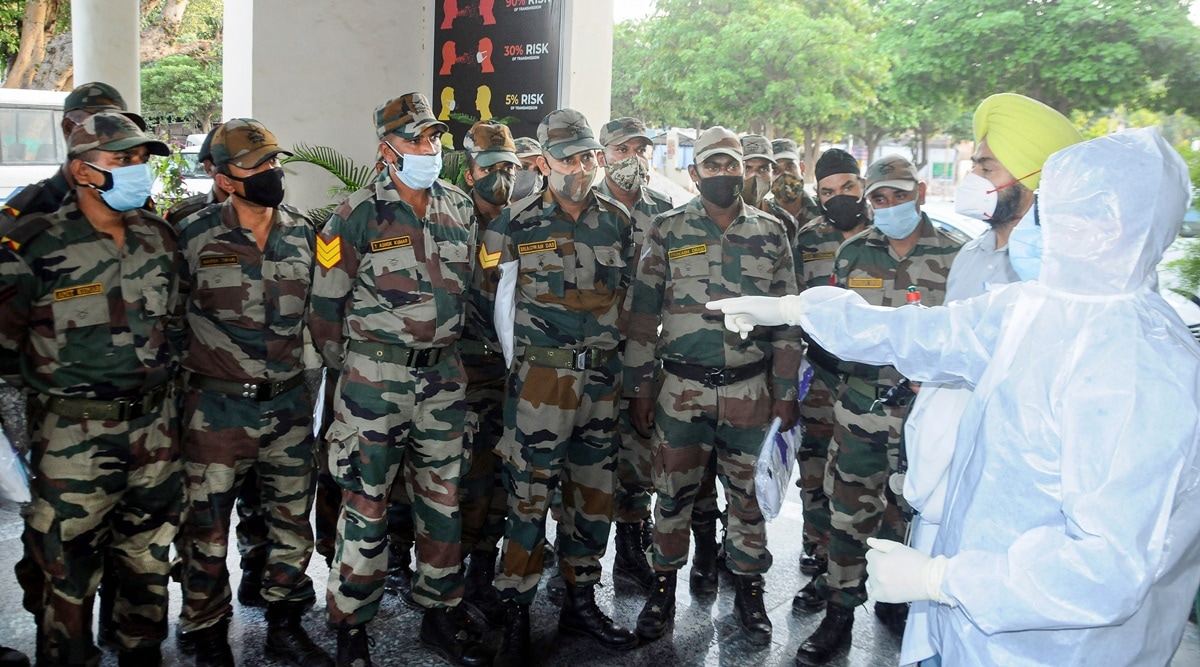 To help the armed forces enhance their capabilities to help the country fight Covid-19 challenge, Defence Minister Rajnath Singh on Friday gave them emergency financial powers to establish quarantine facilities and hospitals.
In a statement, the Defence Ministry said Singh "invoked special provisions and granted Emergency Financial Powers to the Armed Forces to empower them and speed up their efforts in tide over the current" second wave of the pandemic.
The powers, it said, will help the formation commanders "to establish and operate quarantine facilities/hospitals and undertake procurement/repair of equipment/items/material/stores, besides provisioning of various services and works required to support the ongoing effort against the pandemic".
Vice Chiefs of the Army, Navy and Air Force, including Chief of Integrated Defence Staff To The Chairman Chiefs Of Staff Committee (CISC) and General Officer Commanding-in-Chiefs and equivalents of all three services have been given full powers, the ministry said. The Corps Commanders and Area Commanders of the forces have been delegated powers upto Rs 50 lakh per case.
The powers have been given for a three-month period.
A week ago, Singh had also approved delegating seminal emergency powers to the Director General Medical Services (Army/Navy/Air Force), and the heads of the medical branches. The directors general were given powers till Rs 5 crore, while Major General-rank officers and Brigadier and equivalent ranks officers got powers till Rs 3 and Rs 2 crore respectively.
Similar emergency powers had been given to the forces last year too, during the first wave of the pandemic. The ministry also mentioned on Friday that the 39 cantonment boards across the country are assisting the civil administration.
The forces have also been helping transport oxygen cylinders and containers not just within the country but also in getting them to India from other nations. As of Thursday, the Air Force has airlifted 39 containers with a capacity of 670 MT of oxygen in 23 sorties from other nations, while within India it has transported 87 containers with 1798 MT capacity in 124 sorties.
While the Navy had transported oxygen to Lakshadweep earlier, as part of Oxygen Express, it joined the Air Force on Friday in bringing containers from outside the country, as it is bringing 40 MT of oxygen in two cryogenic containers gifted by Bahrain.
Two more Navy ships are on their way to Bangkok and Singapore for similar missions, and the Navy said that "mission deployed Indian Naval warships will undertake shipment of liquid Oxygen filled cryogenic containers and associated medical equipment" to support the country's fight against the pandemic.
The Navy has also sent a 76-member Naval Medical Contingent including 10 medical officers, 12 nursing officers, 34 paramedics and 20 Battle Field Nursing Assistants (BFNA) to Ahmedabad, to man the 900-bed Dhanvantari Covid Hospital and provide Covid care to the civil population.